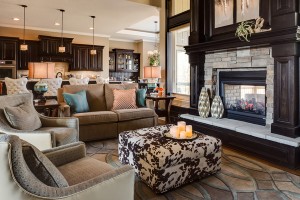 Albert Einstein once said, "Out of clutter, find simplicity." Whenever you are facing the difficult task of taking on an interior design project or a redesign, it's best to go back to the beginning.
Fred Albert, Houzz staff writer and editor, recently wrote a great article on starting with the basics, "Decorating 101: How To Start A Decorating Project." In it he suggests these steps to facing the sometimes daunting task of beginning the project:
Look at what you already have – do you like some of the room, the color, fabric, decor, etc?
Repeat what you like and discard the rest.
Write a "wishlist" of what you want if money were no object as opposed to what you can do now.
Prioritize that list.
Save pictures of design you love like on Houzz or Pinterest – take your time to collect your ideas.
Get your significant other involved, otherwise – it may be a fight at the end!
Trust your instincts – if you gravitate toward color, decor, furniture, architecture, etc. there's a reason.
Now, start weeding out the best – what design is calling your name? Which furniture pieces can you see yourself lounging in? What colors make you feel good?
Figure your budget.
Decide if you'll wait and do it all at once or a bit at a time – although for some it's hard to live with a partially finished project.
In the end, it's about living with that environment. Fred gives a great quote to keep in mind: "Life's too short to live with things you don't love."
What's a project you are struggling to start?