Each week I've been taking a different part of the home and giving suggestions for making that space more livable. This week, we're talking bathrooms.
In the bath, if you are opening up the walls anyway, adding wood bracing is a great idea that allows you to add grab bars now or later.  New models and finishes of grab bars are available that don't have the traditional "institution" look.
Zero entry showers look wonderful and make maneuvering in and out of the tub a thing of the past.
If you have room, add a 15" deep bench at one end of a shower.
Adding a hand held shower helps for seated bathing, but can also be helpful to wash the family pet.
Again, lever handles on faucets make operation a cinch.
If you are changing out a commode, add a comfort height commode – you won't regret it.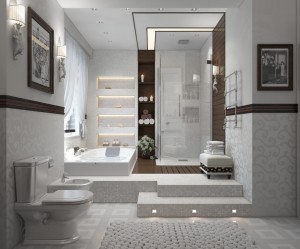 These are just a few ideas for the most used rooms in the house.  The best thing is that all of the above recommendations are functional and can be done in a way that enhances the look of your home.
Additional recommendations would be based on your particular needs and the needs of visitors to your home.  Implementing just a few of the suggestions will make your home improvement project a real improvement for you!