Remember last week in my blog we talked about the entry to the home and how to make it easier for visitors to use.
In the kitchen, there are a number of changes that can really help.
Varied counter heights have been recommended by the National Kitchen and Bath Association for several years now.  Counter heights of 30" with open space under them address the needs of people that need to sit for food preparation. 
In addition, standard countertops (36") can be too low for some folks, so a 42" height is helpful. 
Raising your dishwasher, so you don't have to bend as far to empty it, is an advantage for everyone.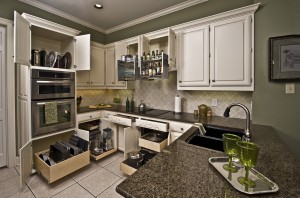 On my wish list for a kitchen update is sliding drawers for lower cabinet shelving. 
These are just a few ideas for the most used rooms in the house.  The best thing is that all of the above recommendations are functional and can be done in a way that enhances the look of your home. 
Additional recommendations would be based on your particular needs and the needs of visitors to your home.  Implementing just a few of the suggestions will make your home improvement project a real improvement for you!
What would you change in your kitchen?