"Architecture should speak of its time and place, but yearn for timelessness." – Frank Gehry
Have you ever walked into a house or maybe even in a room in your house, and you can't really put your finger on it, but something just doesn't feel right.  The furniture is beautiful, the rugs and the drapery coordinate.  And yet it still feels unwelcoming, incomplete…like you walked out the door without your earrings or watch on.  You may have heard people refer to the "bones" or the structure of a house.  Architectural details are the "meat" on the bones if you will.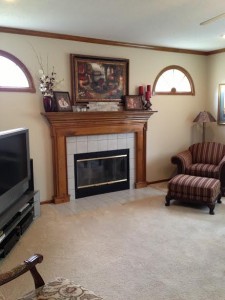 One of my very favorite clients and jobs was a women living in a townhouse. The client had moved into the space fairly recently.  When I entered her home her furnishings spoke volumes.  There were a number of treasured family pieces and she had several beautiful, bright oriental rugs.  However, the home had very contemporary lines. This fact was highlighted by the focal point of the living room; the fireplace.
During my initial interview the client said that she just couldn't stand her fireplace.  She really wanted a mantle, and she might want to change her blinds flanking the fireplace to shutters, but wasn't sure.  She didn't like her wall color.  As many people today can relate to, her open home had one color that was everywhere.  There are no "natural" endpoints to start and stop color. Changing the color in the living room would be a challenge.
As I developed the design concept for the space, adding a traditional feeling to an open, contemporary space was the challenge.  I knew I would need to add some architectural elements to change it from contemporary to more traditional.  The fireplace was the perfect place to start.  A style can be defined in the lines of a fireplace.  As the focal point of the room, it would set the tone.
To achieve the final look, we added tile, a mantle, and moulding to the fireplace.  We continued the moulding around the room to add architecture.  Finally, we painted the walls, below the moulding, a warm yellow/gold.  The room was suddenly warm and inviting, and the client's family treasures now matched the architecture of her home.
Next to the fireplace doorways were a great place to establish a sense of style.  If you love traditional, federal or colonial features, adding a pediment over your doorways goes a long way.  In addition fluted millwork with rosette motifs in the corners solidifies the look.
Many people are drawn to Prairie, Mission and Arts and Crafts style.  I worked with a client that was building a house who really loved the Arts and Crafts style.  In that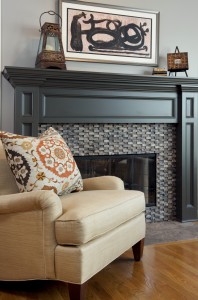 style, the emphasis is on nature, quality craftsmanship, using quarter sawn oak and redwood.  The style also uses many geometric lines in its architecture. We added lots of wood detail at the ceiling line, around the fireplace, doorways and even in the corners.  To complete the look we added 6" base moulding.
In general, for a contemporary look you may want to forgo millwork.  Clean lines straight or curved evoke a contemporary feeling.  Using columns, fluting, and acanthus leaf motifs are signature features for classic architecture and style. Additionally, these features suggest more of a formal feeling.  To achieve an Old World and Tuscan style, I use rustic finishes and medium to dark earthy tones on woodwork to create a warm and casual feeling. 
As you embark on your home improvement project, don't forget to add the subtle jewelry to your home.  Adding architectural details to the fireplace, doorways, ceiling lines, window frames and baseboards will make your house flow.  These details create a cohesive look. Your house may have great bones, but make sure you complete your look with architectural details that make it timeless.